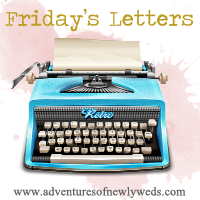 I'm excited to do my first Friday's Letters linkup from
Adventures at Newlyweds!
Here goes nothing...
Dear Summer, how the heck are you flying by so fast?! I can't believe it's already July. Dear bank account, why aren't you unlimited? Your girl can't afford all the super cute clothes I've been seeing at J Crew, Old Navy, Francesca's, and Lands End Canvas. Dear internship, I love you, but why the long hours? I feel like once I get home, all I do is eat, work out, shower and go to bed. What happened to fun summer nights? On that note... Dear workouts, why must you last so long and make me sweat so much? Why isn't there a magic spell that can blast calories and create some muscles? Dear weather, WHY ARE YOU SO HOT? 99+ degrees doesn't do it for me. Dear Jack Rogers, why are you so cute yet so uncomfortable?! You've got me tied around your finger... I just keep coming back. Dear best friends, why are you so busy and far away?! I miss you both!
missing the trio this weekend.
Happy Friday! Hope you all have a wonderful weekend!
xoxo, ryann